At The Vets
Sureflap Felaqua Connect
Sale price Price $195.50 Regular price Unit price / per
Or 10 interest free payments from
$19.55
with
What's this?
Tax included.
Felaqua Connect delivers fresh water and monitors your cat's drinking patterns
Designed with leading veterinary behaviourists, Felaqua Connect encourages your cat to drink and provides you with insights into their drinking behaviour, highlighting changes which may otherwise be missed.

CAT-FRIENDLY DESIGN
Felaqua Connect is the bowl that your cat would choose to drink from. Its wide, shallow bowl presents water in a way that is more visible and appealing to your cat.

MONITORS YOUR CAT'S DRINKING
Used with the Sure Petcare App, Felaqua Connect tells you how often, when and how much your cat drinks. Connect all your Sure Petcare connected products in one place.

DELIVERS FRESH WATER
The bowl automatically refills from the reservoir as your cat drinks. No recirculating water, just clean, fresh water. Plus, receive notifications when the water needs changing.

HASSLE AND CABLE-FREE
Battery operated, no untidy cables, noisy pumps or expensive filters. Felaqua Connect is designed to reduce hassle and make it easy to care for your cat.
How it works
Felaqua Connect links to your Sure Petcare App via the Sure Petcare Hub. Simply plug the Sure Petcare Hub into your home router and connect up to 10 Sure Petcare connected products, such as the SureFlap Microchip Cat Flap Connect or SureFeed Microchip Pet Feeder Connect.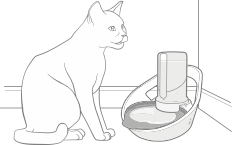 OPEN ACCESS
Felaqua Connect has open access and can be used by any pet. The integrated microchip reader recognises individual pets to monitor their water intake.

DOWNLOAD THE SURE PETCARE APP
Download the app, pair the Hub and Felaqua Connect then follow the onscreen guide. If you already have a Sure Petcare connected product, simply add it to your Household.

REGISTER YOUR PET'S MICROCHIP
Once you have downloaded the app, you will be guided through a step-by-step set up to register and store your cat's microchip ID to the device.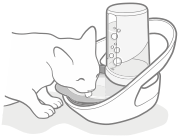 YOUR CAT CAN DRINK!
Place Felaqua Connect in a low traffic, quiet place as this will encourage your cat to drink from it.
Technical Specifications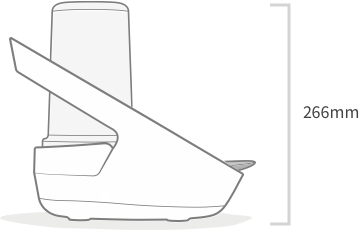 Dimensions

 

H 266mm, D 283mm

Weight

 

850g

Resevoir capacity

 

1 litre

Battery

 

4 x C Cell/LR14 (not included in the box)

Battery life

 

6 months

Warranty

 

2 years (reservoir, reservoir lid and bowl 1 year)

iOS & Android compatibility

 

Compatible with Android 5.0 and iOS 11 versions
https://www.surepetcare.com/en-nz/felaqua-connect